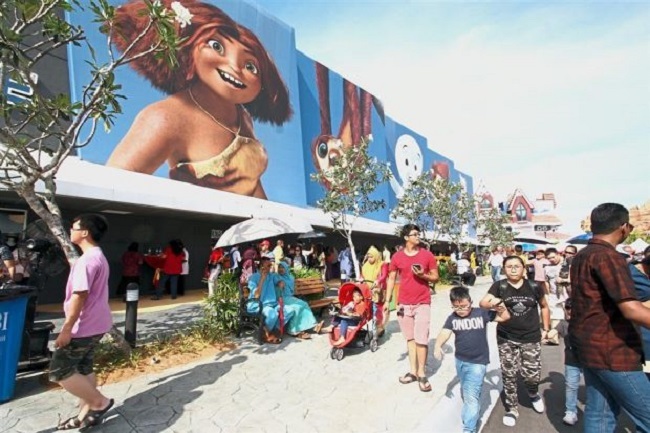 Asia's first animation theme park in Ipoh can finally be fully opened, after the operator of the Movie Animation Park Studios (MAPS) scrapped the licence agreement with DreamWorks Animation.
Perak's Chief Minister Ahmad Faizal Azumu said he supports the move of the operator to terminate the contract as the theme park can now open all of its rides and attractions.
"I believe the decision made by the management of MAPS will allow them to fully open the theme park's attractions."
He also believes that ticket prices in the theme park should be lowered so that it can attract more visitors and sell more merchandise. "For now, the attractions in MAPS are quite limited and visitors do not feel it was worth the price of the ticket."
Previously, its operator Animation Theme Park (ATP) cancelled the contract to set-up DreamWorks' attractions in MAPS, as both parties failed to reach a deal to open the theme park's Dream Zone on 1 August, even though the opening of the zone was already delayed five times.
"[Dream Zone] was already completed but remained inoperable because of intellectual property restrictions. It was ready to be open to visitors," noted Ahmad Faizal Azumu.
Notably, MAPS held its soft opening on 26 June 2017 sans DreamWorks' attractions. The operator had the option to extend the licence contract until 30 September 2018, but opted to discontinue it so that it can expedite the theme park's opening in full.
According to MAPS CEO Shafeii Abdul Ghaffor, without DreamWorks' restrictions, the theme park will not only have more latitude to expand, but also have more leeway to carry out its marketing and promotional activities.
To address the loss of DreamWorks' attractions, ATP is currently in talks with a number of companies to establish their own attractions there.
"We are talking to a few new players after expressing interest in cooperation. I believe they are doing their due diligence and will come back to us in time. I am confident that we will find a favourable partnership with the private sector on this," added Shafeii Abdul Ghaffor.
But due to axing the agreement with DreamWorks, state government-owned Perak Corp revealed that its subsidiary ATP is estimated to write-off RM15.74 million.
(Source: Property Guru)